Mane News
News | Articles | Press Releases | Events
16th April 2018
Mane Consulting Nominated for RI Awards
Mane Consulting announced as a finalist for the Recruitment International Awards!
The 2018 Award ceremony will be held at the Ivy Ball Room in Sydney on Wednesday 18th April.
The RI Awards are 'the world's most sought after recruitment industry awards programme' judged by an international panel of business leaders and respected entrepreneurs from our industry.
Mane Consulting are delighted to have our hard work over the last 18 months recognised in such a way, and would like to thank all of our friends, family and business network who has assisted us so far on our journey.
Congratulations and good luck to everyone who has been shortlisted we look forward to seeing you at the ceremony.
---
---
23rd March 2018
Padma Arni joins Mane Consulting
Mane Consulting are delighted to announce their newest employee – Padma Arni.
Padma has over ten years of digital and development recruitment experience gained both in Australia, India and the US.
She joins her former colleague Britt McGill in our Digital team, assisting our valued clients and candidates within the Digital and Development space, with specialisms across Java, .Net, front-end, back-end, full-stack and mobile to name just a few.
Padma can be contacted directly at padma.arni@mane.com.au for any enquiries.
30th August 2017
Britt McGill joins Mane Consulting
Mane Consulting are delighted to announce the expansion of the business with the hire of Britt McGill as their Associate Director responsible for their Digital & Technology division.
Britt is well known to the Directors of Mane Consulting having worked with Britt in her last role. Britt will be focused on sourcing and selecting Digital and Development talent for our clients across Australia.
Director of Mane Consulting, Ieuan Williams said Britt deciding to join is a big moment for Mane. It signals our continued intent to focus on growing markets with real specialists leading the charge."
The announcement of Britt joining Mane Consulting is the second specialist hire in recent months with Lisa Hurl joining to focus on Insurance in June.
23rd June 2017
Mane Event – Lions Rugby Evening

Event Details:
Private screening of the All Blacks v The British & Irish Lions. Food and Drink provided.
Followed by tickets to a corporate box at the Allianz Stadium for the Waratahs v Jaguares Super Rugby Game.
Event date:
4.30pm, Saturday 8th July 2017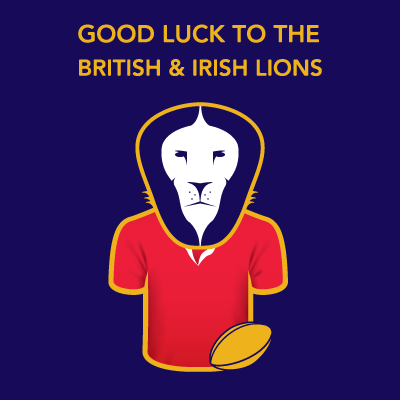 Have a Question?
---
19th June 2017
Introducing Mane's newest Consultant – Lisa Hurl
We are delighted Lisa has joined Mane Consulting to work with our insurance clients. Lisa has a proven track record working in a high performing specialist desk.
Having worked with Lisa previously, the Directors know that she has exactly the right values and ethics that fit with what we are building here at Mane. We are excited that Lisa has chosen us to take her career to the next level.
For any insurance related roles or job queries please contact Lisa directly on +61 424 056 263 or Lisa.Hurl@mane.com.au
February 2017
Accounting Forum – Australia and Mane Consulting Partnership Announced
Mane Consulting formally announce their association with the Accounting Forum – Australia.
Our partnership with this nationally recognised accounting group will allow the members of the forum to utilise the market knowledge and network of Mane Consulting and their affiliates.
To join or enquire about the Accounting Forum-Australia contact Ieuan Williams or go directly to the LinkedIn group by clicking the buttons.
December 2016
Mane Consulting Officially Launch
Today, Wednesday 14th December 2016 is the first day of our new business Mane Consulting Pty Ltd.
Mane Consulting was co-founded by Ieuan Williams and Joe McGinty. Ieuan and Joe have worked
together in their previous roles for the last 6 years.
"We have been overwhelmed by the response to our new business to date. It has been a fantastic journey so far, the exciting prospect is that we haven't even finished page one of our story…".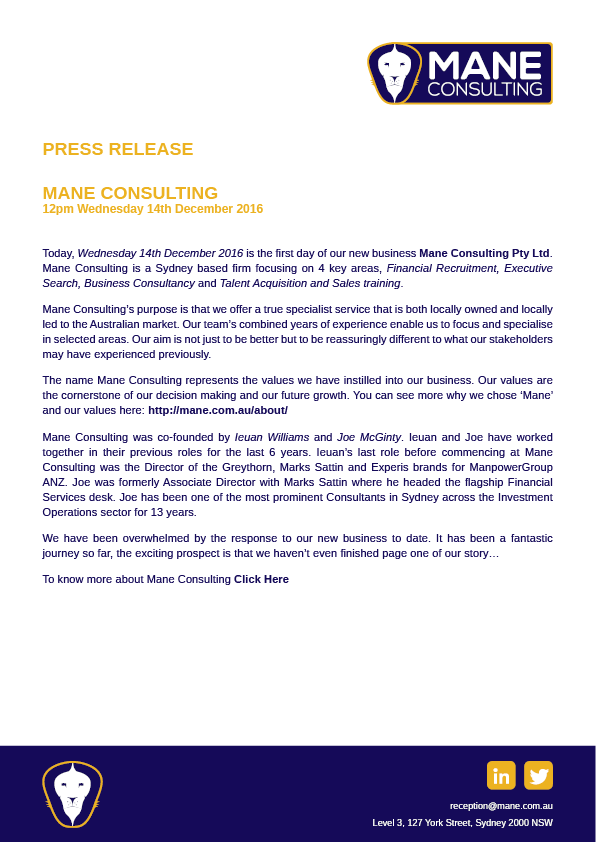 View Press Release Here